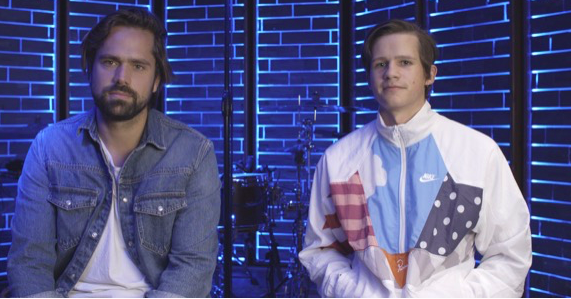 ELECTRONIC DUO LEMAITRE CREATE THE FIRST EVER NORWEGIAN SPOTIFY SINGLE WITH AN EXCITING REINTERPRETATION OF THEIR NEW SONG "BIG" WITH GUEST HIP HOP FEATURE TIMBUKTU AND COVER OF TAME IMPALA'S "FEELS LIKE WE ONLY GO BACKWARD".
LISTEN HERE:  https://lemaitre.lnk.to/BigSpotifySingle
 Electronic duo Lemaitre recently entered the Spotify studio in Stockholm to create the first ever Norwegian Spotify Singles. In true Spotify Singles-spirit the duo presents us with an exciting reinterpretation; a new version of their song "Big" with a guest appearance by Swedish artist Timbuktu, as well as a unique cover of Tame Impala's "Feels Like We Only Go Backwards" – LISTEN.
 Ever since Spotify opened their studio at the head offices in Stockholm in April, a series of Nordic artists from a wide range of different genres have been invited to create Spotify Singles at the studio. First Aid Kit, Scarlet Pleasure, Seinabo Sey, Hov1, Molly Sandén and Lykke Li have all released reinterpretations and covers within the framework of the Spotify Singles programme. Lemaitre will be the first ever Norwegian act to release Spotify Singles, and no less than Swedish hip hop artist Timbuktu was invited to the studio to help create some musical magic:
"Recording at the Spotify studio was a crazy experience! Usually, we work from home on laptops, so being in this studio with literally everything in it was awesome. At some point we were asked if it was okay if Daniel Ek and Jared Leto popped by, and while it was very tempting to say 'No, mr Ek, we don't have time for your shenanigans', we collectively decided we would rather still have jobs. All the instruments at the studio were mic'd up and ready to go at all times, so we used like all of their stuff. We didn't even plan on using their drum kit, but it was there and ready, so why not."
"Timbuktu came through and did a verse on 'Big', which was pretty crazy. It's always pretty nerve-racking hearing the first pass of a feature verse, because you never know if the featured artist even read the original lyrics. Luckily Timbuktu is a pro and understood the lyrics better than us, so his verse, naturally, was a perfect fit."
 "The whole idea of the Spotify studio in Stockholm is to be able to offer Nordic artists a creative platform for unique reinterpretations, covers and collaborations. With this project Lemaitre really shows us that it's possible to take something existing and create something completely new – and what makes it even more exciting is that they're collaborating over the country borders by inviting Timbuktu", says Jenny Hermanson, Managing Director, Spotify Nordic region.
 About Spotify Singles
Artists from all over the world and from different musical genres have for the past years been invited to record Spotify Singles: a reinterpretation of one your own songs, as well as one unique cover. Ed Sheeran, Taylor Swift and Sam Smith are just a few examples of artists who have been recorded in the Spotify Studio the last years. The Spotify studio in Stockholm have been visited by First Aid Kit, Seinabo Sey, Scarlet Pleasure, Hov1, Lykke Li and Molly Sandén, who all have recorded exciting new reinterpretations and covers.
 A bit more than two years since the start of Spotify Singles, the total songs of all the acts that have participated in the programme have reached an astonishing one billion streams on Spotify. Up to this day, 380 Spotify Singles have been recorded by 185 artists, which results in over 23 hours of nonstop listening. Here you can listen to all of the recorded Spotify Singles: The Complete Spotify Singles.